About SMIC
Facilities & Services
School Buildings
The Private Kindergarten has three floors and 19 classrooms. The Lower Elementary campus has three floors with 28 classrooms and 7 special classrooms. The Upper Elementary campus has four floors with 29 rooms for student education and use. The Secondary campus has three floors with 35 classrooms and 25 special classrooms, including 4 science labs.
Each classroom is equipped with air conditioning, a ceiling-mounted LCD projector, and an air purifier. Our Upper Elementary classrooms are also equipped with interactive whiteboard projectors.
Our school also features four auditoriums, multiple science labs, art and music rooms, outdoor basketball and tennis courts, soccer fields and running tracks.
Computer Rooms
There are seven computer labs at SMIC. Each lab includes 30 PC computers, one laser printer and an LCD projector. Color printers and photo/document scanners are also shared among the computer labs. Two server rooms host multiple servers to support the school's internet, WIFI/intranet needs, email system, PA system, phone system, security cameras, printers, etc.
Labs
To meet the rising demands of scientific education, the school rebuilt the original labs. We now have one biology lab, one physics lab and one chemistry lab. All labs can be divided into a standard lab and a customized lab, with the latter providing strong support for research-based projects. These labs are also equipped with DIS probe, portable power and handwashing sinks that can help students explore the science.
Broadcast Room
This room is used for distance education, recording courses or school TV station. It has a special area for special effects to facilitate students' production of creative videos.
Multi-Purpose Rooms
We have also renovated four computer rooms, one of which can be used as an audio room. The design classroom has also been expanded to meet the needs of AI courses.
Gym
The Gym is situated on the second floor of the building that houses the school cafeteria on the first floor. It has an approximate area of 1,900 square meters and has a standard-size basketball court. The gym is also equipped with movable volleyball and badminton equipment. The gym is used as a multi-functional sports venue, and students commonly use the place for ball games and competitions.
Libraries
SMIC School has two libraries respectively located in ES and MHS, which comprises about 45,000 volumes. These books aim to expand students' horizons and develop their interests in reading. Each year, libraries hold diversified activities to promote reading.
School Cafeteria
The school cafeteria has an approximate area of 1,900 square meters, which includes the student cafeteria of around 1000 square meters and serves 840 students at the same time. The cafeteria has facilities like air conditioners, hot water, etc.
School Bus
The SMIC Private School has 20 school buses. The school bus service is provided for an additional fee for students in grades 1 to 12, who live within the outer ring, for some Pudong and Puxi areas. Every school bus has safety belts, an automobile data recorder, and a school bus teacher to ensure the safety of the students.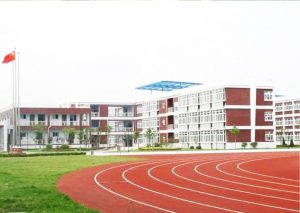 SHANGHAI SMIC PRIVATE SCHOOL INTERNATIONAL DIVISION